I run a Modern, completely new built, State of the Art, Health Dept. registered Ice Cream truck (Mercedes Sprinter LWB van).
It is fitted out with the most modern and hygienic machinery and equipment available.
We provide a menu with high-quality dairy ingredients and food products from New Zealand catering for just about every taste, at fair prices.
 Historical image of old caravan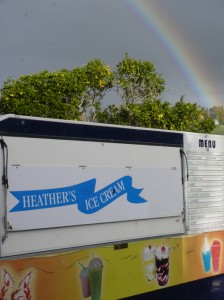 Our five core principals include
Relentless commitment to Customers

Constantly Learning

Ethical, Professional and Safe 

Always Adding Value

Flexible and Responsive
We pride ourselves on the attractive, clean appearance of our van.    
We are motivated by our Core Purpose.
"This is the standard to which others should aspire," is a common observation from our customers.                            
As a customer focused organisation, our customers define our core principals.
To make the lives of our customers and their families better through our actions.
Result of Mystery Shopper at Fieldays Hamilton 2014
The below questions were rated on a scale from 1-5 with:
1-      Terrible                                2- Bad                   3- Okay, could be a lot better     4- Very good      5- Fantastic
Business: Heathers Ice Cream
What was purchased: Waffle Cone
Freshness of Ingredients: 4
Comments:
Customer Service: 4
Comments:
Wait time once order was placed: 4
Comments:
Presentation of Food: 4
Comments:
 Appearance of Staff: 4
Comments:
Appearance of Site: 4
Comments:
Overall Rating: 4
Comments:
Thank you again for your great work over Fieldays 2014.
Warm regards,
Alyshia
Sponsorship
Something else we like to do is sponsor activities within the events we attend, for example at the A&P show the first three places in the horse riding event get a free ice cream.
If you have an event that needs some sponsorship, please feel free to contact us and we'll see what we can do. There isn't much in this world that isn't made even better by a creamy Tatua ice cream.