We get around a lot so we thought we'd put together this handy calendar so you can keep track of where to buy your favourite ice cream.
PLEASE NOTE: Currently as our main station we are based at the car park between the two bridges at Arapuni Dam and you can get your delicious Ice Cream and fresh Espresso Coffee there. From Arapuni Dam Car Park you can walk to the swing bridge (built to connect Arapuni village and the power station). We were situated at Te Waihou Walkway Leslie Road (close to Putaruru) at the beginning of 2016 but now have moved to Arapuni Car Park between the two bridges. At Te Waihou Walkway you still have the opportunity to walk the track and see the natural amazing Blue Spring water. Be surprised what natural wonder is hidden here and be amazed by the colour of the water!!
If there's a show you'd love to see us at, feel free to let us know on our contact page. We can even provide our own 22 Kva very silent Generator  with a DBA of 61 which is built into our new Mercedes Sprinter LWB van (vehicle is 6.6m long and 1.8m wide).  If in need two other vendors could plug in as well and it is also ok for Computers and TV.
NEW MERCEDES SPRINTER LWB VAN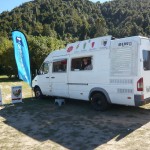 EVENTS WHICH WE HAVE ATTENDED
Please have a look at the gallery to enjoy some photos from these events (coming soon)
Thank you to all the organisers for doing a marvellous job despite sometimes even  bad weather conditions.
3rd November 2013 – Franklin Markets Pokeno
9th and 10th November 2013 – Clevedon A & P Food and Wine Festival
24th November 2013 – Ardmore Open Day
30th November 2013 – Tuakau Christmas Parade
1st December 2013 – Steel Mill Waiuku Christmas Parade 
9th December 2013 – Clevedon School Christmas Carols
10th December 2013 – Kawakawa Bay – Orere Point Record Shearing 
13th December 2013 – Te Kuiti Christmas Parade 
14th December 2013 – Waiuku Christmas Parade 
15th December 2013 – Santa on Train – Glenbrook to Waiuku 
20th to 24th December 2013 – Santa Display Waiuku 
27th and 28th December 2013 – Karioitahi Beach Waiuku 
31st December 2013 – Karioitahi Beach Waiuku 
1st January 2014 – Warkworth Rodeo
2nd January 2014 –
4th to 8th January 2014 – Girl Guides Rangers Jamboree Wesley College 
18th and 19th January 2014 – Kumeu Classic Car and Hot Rod Festival
25th to 27th January 2014 –Waiuku Town Hall – GVR (Glenbrook Vintage Model Railway) 
31st January 2014 – Karioitahi Beach 
1st February 2014 – Miniature Horse Club Pukekohe 
2nd February 2014 – Clevedon  Fire Brigade Polo Charity Family Day 
6th February 2014 – Waitangi Day Barry Curtis Park 
7th February 2014 – Movies in the Park, Waiuku Tamakae Reserve 
8th February 2014 – Antiques and Collectibles Fair Pukekohe 
9th February 2014 – Pukekohe Half Marathon and Karioitahi Beach 
13th February 2014 – Papatoetoe Rugby League
15th and 16th February 2014 – Franklin A & P Show Pukekohe
22nd February 2014 – Thundercat Karioitahi Beach
23rd February 2014 – Sunset Coast Walk Waiuku
26th February 2014 – Karioitahi Beach
28th February and 1st March 2014 – Swap Meet Pukekohe
2nd March 2014 –
5th March 2014 – Rugby League Waiuku 
6th March 2014 – Waiuku Swimmingpool – View Road School and Karioitahi Beach
7th March 2014 – Waiuku Swimmingpool – Sandspit School and Karioitahi Beach 
8th and 9th March 2014 – Kumeu Show 
11th March 2014 – Clevedon School Swimming Sports 
12th March 2014 – Waiuku Swimmingpool and Karioitahi Beach 
14th March 2014 – Fulton Swimmingsport – Kids Triathlon
20th March 2014 – Waiuku Swimmingpool – All School 
21st March 2014 – Summer End Festival – Patumahoe Community Church
23th March 2014 – Karaka Vintage Day, Karaka Sports Ground
25th to 28th March 2014 – 2014 New Zealand Post National Secondary School Waka Ama Championships – Outrigger  – Lake Tikitapu (Blue Lake), Rotorua
29th March 2014 – 2014 New Zealand Shearing Championships – The Great New Zealand Muster and the NZ Shears Running of the Sheep Te Kuiti
30th March 2014 – Rotorua Airport 50th Anniversary Open Day
4th April 2014 – Rotorua Whanau Day
5th April 2014 – Auckland Hobbies Fair Freemans Bay
6th April 2014 – Sand to Mud Run Waiuku
12th April 2014 – Eye on Nature Auckland Botanical Garden
13th April 2014 – Run Auckland Te Atatu and Karioitahi Beach
15th April 2014 – Waiuku Kindergarten
16th April 2014 – Pukekohe Swimming School
20th April 2014 – Port Waikato Fishing Contest
26th April 2014 –
27th April 2014 – PopKultcha4 Belmont and Dr. Who Fan Club
2nd and 3rd May 2014 – Rotorua Marathon Expo
4th May 2014 – Morrinsville Model Railway Show & Fair 
10th May 2014 –
11th May 2014 – Waiuku Steel and Wheel
18th May 2014 – Huntly Marathon
31st May 2014 – Model X 2014  Hobby Show,West Wave Aquatic Centre, Alderman Drive Henderson
1st June 2014 – Ardmore Airport Open Day
7th June 2014 –
11th to 14th June 2014 – Fieldays Hamilton Mystery Creek
15th June 2014 – Waiuku Hobbies and Pastime Expo
UPCOMING EVENTS
Please come and visit us at these events and taste our delicious TATUA Ice Cream
27th July 2014 –
Collectors Toy & Model Fair,

Mt. Eden War Memorial Hall
27th September 2014 – Auckland Hobbies Fair, Freemans Bay Centre
‏
Thursdays, Fridays, Saturdays and Sundays, from the 29th November until the 24th December  –  Christmas Display Waiuku War Memorial Hall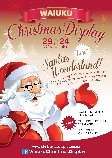 Video Inspiration of Christmas – Each year the display gets a 100 times better and bigger because the organisers add to it