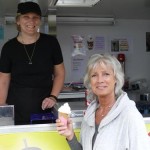 Angie is renowned for setting an exceptional high standard of service and attention to small details making one feel special
Heather's Ice Cream is Special
Angie had a dream to bring 5 star tourism to New Zealand – Puka Park Resort Pauanui founded in 1986 – achieved International Acclaim and won the first ever Tourism Supreme Award in New Zealand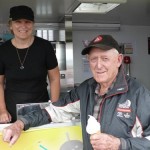 Ian Hopper, Hopper Developments had the vision to establish Pauanui and build its airstrip – created one of the most successful business property and Real Estate companies in New Zealand – Pauanui Waterways
His developments are ambitious but based on what is known as possible with new ways to add value
 Sharon and some of her team –               Girl Guiding Jamboree 2012 Rotorua –                                  PR lady Charlie enjoys our Ice Cream as well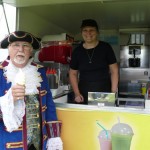 Katikati town crier John Groves – even a town crier likes better Ice Cream and a nice talk- Katikati Avocado Food and Wine Festival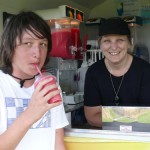 Our most loyal fan Geordie Gibson –  14 slushies on the day at Katikati Avocado Food and Wine Festival
After lots of sheep shearing David Fagan needs a treat and now he is enjoying our better creamy Ice Cream. David Fagan ONZM is a New Zealand sheep shearer who has won the New Zealand Golden Shears contest a record 16 times setting 10 world records and winning 5 world, 6 world team and 16 national titles – makes him New Zealand most competition sheep shearer and he continues to win nationally and internationally.  Watch out for him in the world premier shearing and woolhandling competition in Masterton from 29th February to 3rd March 2012. On the other photo you can see two members of the 2012 Australian Shearing team.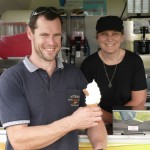 Waikato Shearer Sam Welch is enjoying our better fine Ice Cream. Sam Welch together with Stacey Te Huia has broken the nine hour record for two-stand ewe-shearing on 18th January 2012. Te Huia was credited with 674 for the day, while Welch shore 667. The new record-holders shore a combined tally of 1341 ewes to beat the by six the previous record of 1335 set by the Southlanders. His wife Emily has smashed on 27th November 2007 the world record for nine hour lamb shearing and her record remains unchallenged so far – she is still the fastest female shearer in the world – for this record the condition was to shear 541 lambs in nine hours but she has has broken the record shearing 648 lambs in these nine hours. Congratulations to all of them.
Neil Sidwell – the Northern region sheep shearing judge known in his shearing days as the "blonde bullet" (because he was so quick) who constantly invites the young people on stage to experience shearing a sheep while he helds the hand piece. His greatest attributes are to get young people into shearing as a profession.
Coastal Challenge Devonport – as you can see even our dearest friends love our delicious Ice Cream (it tastes fantastic and has only 3.5 % milkfat) and the moral of the story is … buy your pet an Ice Cream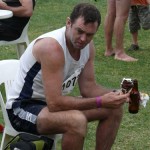 Coastal Challenge Devonport – runner 1073 Steve Grant enjoys Heather's delicious chocolate-dipped Ice Cream together with a sponsor's beer after the run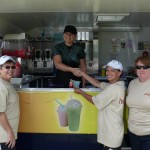 Coastal Challenge Devonport – Heather's Ice Cream is making a donation to North Shore Hospice and is privileged to support this very important organisation to help relief the pain for many families
Ken Lupton – winner of the 2012 Masport Cup HydroplaneNew Zealand Grand Prix Championships at Auckland Mangere Bridge is enjoying a slushy from Heather's Ice Cream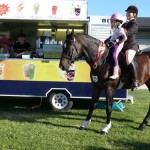 Anne Watts with her horse BJK Kashmir and her friend Amelia who loves horses –  Anne is the winner of the Sue Yearbury Memorial Equestrienne trophy at Coca Cola Easter Show ASB Showgrounds Greenlane Auckland equestrian event Alexandrapark 2012. She loves our coffee and Ice Cream. This trophy is judged on Points for Conformation and Soundness, Manners and Paces, Saddlery, Costume, Riding Ability and General Appearance. Anne is a remarkable person and an inspiration – after having had an accident in 2011 and being tetraplegic involving C4 Vetebraf (she couldn't move much) but she worked so hard to achieve this and make the unbelievable true. Amelia has been in touch with horses since she has been 18 months old and wants to be a great rider as Anne.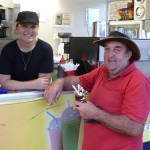 Barry Wood – Airport Tyreworx and organiser of the Kawakawa fishing contest is enjoying our Ice Cream after most of the work is done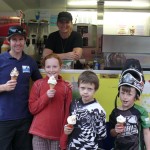 Woodhill mountain bike park events organiser Haydn with his family enjoys Heather's Ice Cream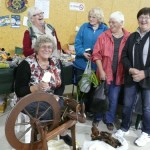 Lorraine Langtry – President of the Oroua Federation of Women's Institutes is enjoying Heather's Ice Cream after spinning demonstrations at Manawatu Garden Festival Feilding Manfield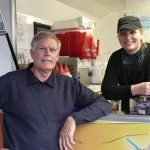 Darrell Simpson, Flight Simulator Operator Westpac Rescue Helicopter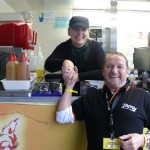 Ray Williams, Targadriver at Kids in Cars Formula E – Indoor Raceway – 6 hours cart race, Ascot Ave, Airport Oaks Auckland. On 16 March 1996, at Goudie Road, Reporoa, Ray and his Porsche 930 Turbo "The Ivory Beast" succeeded in breaking eight New Zealand Land Speed Records – including the coveted "Outright Landspeed Record, formerly held by Dr Rodger Freeth. The records achieved are: 16 March 1996 – Eight National Records Achieved – all Outright and Road Car (Class B) : (Certified By MANZ) Standing Kilometre Sprint – 174.01 km/h (average) 20.69 secs, , Standing Mile Sprint – 126.39 mph (average) 28.48 secs,  Flying Kilometre Sprint – 316.92 km/h (average) 11.36 secs, Flying Mile Sprint – 196.72 mph (average) 18.30 secs. Ray still holds 8 National Land Speed Records. Ray is proud to have been declared one of New Zealand's "Legends of Speed" – a group of motorsport heroes, both competitors and those who have given invaluable support to New Zealand motorsport.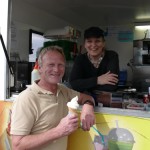 Paul MacDonald MBE (born 8 January 1960) is a New Zealand sprint canoer who competed from the mid 1980s to the early 1990s. He is widely regarded as one of New Zealand's most successful international athletes and holds innumerable international speed records in canoeing. Competing in three Summer Olympics, MacDonald won five medals. This included three golds (K-2 500 m: 1984, 1988; K-4 1000 m: 1984), one silver (K-2 1000 m: 1988), and one bronze (K-1 500 m: 1988). He also won six medals at the ICF Canoe Sprint World Championships with three golds (K-1 500 m: 1987, K-2 500 m: 1985, K-2 1000 m: 1987) and three silvers (K-2 500 m: 1982, 1987, K-2 10000 m: 1990). In retirement from professional competition, MacDonald has produced many television sports events and programmes including Clash of the Codes (the ultimate sporting challenge) and annually presents the Dragon Boat Festival.
Clevedon School – Crazy Hair Day 29/08/2012 – Abbey has won an Ice Cream with flake from Heather's Ice Cream for her super hair do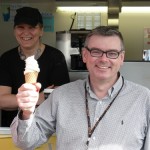 Scott Simpson MP for Coromandel visited Heather's Ice Cream at Whitianga Scallopfestival 2012 and enjoyed our delicious Ice Cream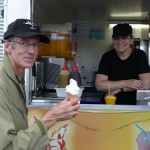 Former neighbour David Phillips who flew the only Mosquito aircraft in the world at Ardmore Open Day enjoys some refreshments from Heather's Ice Cream. If you like to see David Phillips flying the Mosquito please have a look at this You Tube video Flying DH Mosquito KA114.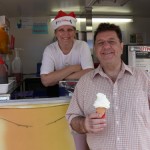 Regional Facilities Auckland (RFA) Chief Executive Robert Domm at Aotea Square Christmas Market with Heather's Ice Cream appreciated a quality Ice Cream on a really hot day. Robert was appointed Chief Executive Officer in November 2011. He previously  served as CEO at the City of Sydney and as a CEO for the New South Wales  Government at the Redfern-Waterloo Authority and the Sydney Harbour Foreshore  Authority, as well as Managing Director of the Australian Technology Park. He has served on the boards of a number of organisations, including the  highly-acclaimed Sydney Festival. He has an extensive background in urban  renewal and planning and managing public infrastructure and tourism precincts  including The Rocks, Darling Harbour, Sydney Convention and Exhibition Centre  and the Sydney Entertainment Centre. A qualified lawyer, Robert holds a Master of Business Administration, Master  of Labour Law and Relations, Bachelor of Laws, Bachelor of Arts and a Graduate  Diploma in Legal Practice. As RFA CEO, Robert thoroughly enjoys working with,  and meeting, good people as they and the organisation grow and succeed. When Robert is not heading RFA he likes to read,  walk, go to the beach, watch movies and sport!
Taupo Motorsport – Taupo Thunder Dragway — c'mon feel the noise (see website taupodrags.co.nz) Event organiser Ken Galvin in Heather's Ice Cream Event trailer is playing his part. At this event he acted as our food tester to ensure that we only sell quality products. He and his wife Desma are organising the Kumeu Classic Car and Hot Rod Show (see website kumeuhotrodshow.co.nz) as well. During the week Ken drives the company NCI New Zealands's Leading Sign Installation Sign Specialist (see website nci.co.nz)
Te Radar enjoys our delicious Ice Cream afterwards he struggled to get the shearing gear going – it was hard sweating work to produce the bike power for shearing a sheep.  Te Radar really liked the idea of using the Buzzy Bee Ride for young children as a prop for businesses at an event whilst parents talk to business vendors about their products (here – see website mowercare.co.nz).Te Radar (born Andrew J. Lumsden) is a New Zealand comedian and television personality. Lumsden studied law at the University of Otago, but abandoned his original course of study to take up drama. He adapted his original nickname of "Radar", adding the Maori Te ("The") to the front for added distinction.Te Radar's comedy often focuses on his interests in travel and history and has a style that could be associated with the iconic style that has been made famous by Rhys Darby. As a result, his work has led to him presenting radio travel documentaries for Radio New Zealand. His 2004 radio show Dispatches from the Holy Lands, chronicling his travels through the Arab-Israeli conflict resulted in the Television New Zealand documentary War Tourist – Christmas in Bethlehem. In 2006 Te Radar fronted a three-part documentary Hidden in the Numbers, which examined the changing face of New Zealand culture. This was followed by two further television series, Off the Radar and Homegrown. Off the Radar saw Te Radar's attempt at sustainable living, spending ten months working on a small allotment. The show rated highly, and led to the publication on an accompanying book. The series was followed by a sequel, Radar's Patch, which won the 2010 award for Best Information/Lifestyle programme. He is a bearded ginger.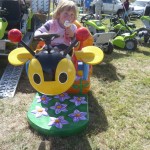 A Young lady in Warkworth is having fun double pack – enjoying a wonderful ride in a Buzzy Bee in the sunshine and additional enjoying delicious Heather's Ice Cream
Waiuku Town Centre Manager Sharlene Druyven loved the quality of our Ice Cream and   Anita – Organiser of Waiuku Sunday Market as well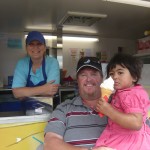 The only Tony who sells the best Ice Cream machines – if you like to know please contact us and we'll help you do the deal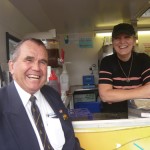 Bruce Orr  – president of the Rural A & P Society (RAS) of New Zealand. He has received the insignia of member of the New Zealand Order of Merit for services to agriculture. He is the New Zealand livestock genetics General Manager and he is with PGG Wrightson's New Zealand . Additional he is the National Stud Stock Auctioneer.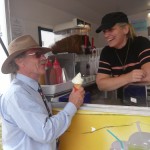 Geoff Smith – President of Pukekohe A & P Society and additional Senior Manager, People and Culture and Locality Manager for ProCare (please see procare.co.nz) – it is the New Zealands largest network of qualified GP's and General Practice teams, representing 200 practiser across the greater Auckland region, with over 800,000 enrolled patients. These partnerships include providing medical services and lifestyle activities at 18 Maraes, health-promotion activities at 42 pacific churches, a women only swimming programme for new migrate communities, and a Bollywood-themed-class for South Asians.  He is also General Manager Franklin locality clinical partnership at Counties Manukau DHB.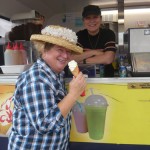 Annabelle White – wrote in her book to me 'thank you for a wonderful TATUA Ice Cream' – Annabelle is a New Zealand food writer and author of eleven cookbooks. Annabelle was a long time food columnist for the Sunday Star-Times and also wrote the popular Food Detective column. She is the former food editor for NZ House and Garden and in October 2011 joined the New Zealand Women's Weekly as Food Editor. The author of eleven cookbooks Annabelle is also busy with cooking classes and the public speaking circuit. In 2009 the University of Waikato recognized her with the University of Waikato, Distinguished Alumni Award. Annabelle holds a history degree (MA First Class Hons) from Waikato University.
Mark Gregory